OTSAW is proud to announce its official launch on 11th February 2021, collaborating and partnering with NTUC FairPrice, IMDA, CM Logistics, HDB, URA, LTA and DHL to commence the trial of its autonomous last-mile delivery robot called Camello in Oasis Terraces at Punggol Drive for a one-year duration to provide on-demand parcel and grocery Delivery.
The event was graced by Pasir Ris – Punggol GRC MP Yeo Wan Ling and Dr Janil Puthucheary, Senior Minister of State, Ministry of Communications and Information, Ministry of Health Government Whip, and vice-chairmen of Pasir Ris-Punggol Town.
This exciting program is the first of its kind to learn and assess consumer habits, needs, requests, feedback, and comments including the increasing aging population coupled with a shrinking workforce that will ultimately be unable to sustain expanding volume of deliveries. The trials main aim is to assess:
Technologies such as AI for autonomous navigation, obstacle detection and avoidance;
Infrastructure such as communications systems and road networks (including connectivity and slopes); and
Business models for commercial viability.
OTSAW aims to deliver sustainable processes and systems that utilize robotics to scale up amidst labour shortages without compounding to global pollution and ultimately solving pressing issues such as carbon footprint.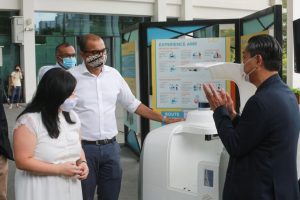 What is last-mile delivery and its challenges?
Last mile delivery is the final step in transporting an item from one central location (or delivery hub) to the purchaser's location. In this "last mile," one of the biggest challenges is customer satisfaction and establishing brand loyalty from lowered costs, same-day deliveries and accuracy. The industry challenge includes increasing parcel volumes, expediting deliveries, cutting multiple stops, and reducing traffic congestion to name a few.
The particular delivery sector affects a multitude of businesses including couriers, third-party logistics companies, direct-to-consumer retail companies, home businesses, food delivery, supermarkets offering delivery, department stores offering delivery, florists, restaurants, pharmacies and the ever increasing e-commerce industry.
Ageing population
As the older population comes to grips with transitioning to digitalization, ordering items online has certainly helped them in labor-intensive and repetitive situations which require not only time but the potential from injury due to carrying heavier parcels.
Without having to queue, this also relieves the crowding scenario while reducing the waiting time for all parties. With the arrival of the global pandemic last year, minimizing crowds in shopping malls and various public venues requiring one-on-one contact has become a top priority, which has expedited the push to more digitalization.
Lowering costs
One primary issue brought to light through initial conversations with the residents at Oasis Terrace is the question of additional fees listed for deliveries which may pose as a deterrent for residents to choose the last-mile delivery system.
Prices will directly increase with an increase for manpower to deliver an expanding volume of multiple items individually ranging from small handheld items or bulky food deliveries.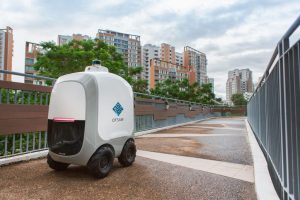 Furthermore, the growing concern of mobilizing additional petrol/diesel vehicles throughout this island state is becoming a focal point for more and more governing bodies.
OTSAW is dedicated to lowering these last-mile delivery costs on both sides for the vendor and the client. Optimizing these costs has become a necessity as the ballooning figures have already begun to affect respective logistics companies and their ability to stay competitive.
Fifty-three percent of shipping costs actually originate from the last-mile delivery sector which cut significantly into the revenue stream.
Sustainability
Delivering an assortment of packages to various destinations around town and to the heartlands on highways and local roads equates to increased stop and starts while adding to  traffic congestion, more idling, downtime and fuel usage inefficiency.
Even when surges in deliveries are not the culprit, the high number of failed deliveries comprise a significant portion of inefficiencies in existing last-mile delivery business models.
A failed delivery could originate from the customer not expecting a delivery with no prior notification, the customer unable to stay home due to late delivery, no convenient options of delivery scheduling, and lastly, an incorrect address for the recipient.
The delicate balancing act between profit margins and customer satisfaction has not been easy to maintain, and OTSAW understands that mobile apps will be even more prominently featured in the near future to ensure live ETA tracking and fewer failed deliveries. This will also mitigate concerns of vehicle capacity, varying customer availability, vehicle capabilities (like refrigeration), and vehicle schedules.
In summary, OTSAW's objective of implementing last mile delivery robotics logistics is to deliver all packages affordably, in the shortest amount of time, and as accurately as possible while monitoring order status and eradicating failed deliveries.  Ultimately, this directive will boost overall productivity, lower existing overhead and, of course, shipping fees to the customer.
For full article pls visit:
The Future Of Last-Mile Delivery Has Arrived In Singapore